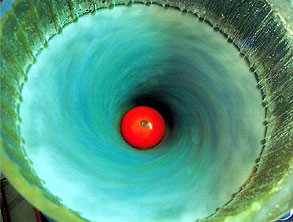 The finishing Chamber of this M/C consists of stationary wall and spinning disc.
The spinning disc throws away the mass of media and work-parts to the stationary wall in a strong way by centrifugal force.
The mass is bumped against the wall and is returned to the disc and disc to the wall--- in this process, of the media and work-parts creates unique toroidal and work-parts creates unique toroidal action where the media and work-parts are rubbed in a strong way and strong finishing result(deburring, surface refining or polishing) can be obtained therefrom.
Not withstanding the advantage of rapid and strong finishing this kind of M/C has not been so popular so far.
It was because the debris of media and parts stuck between the GAP of spinning disc and stationary wall, causing a lot of problems. The P.U. lining of GAP area used to wear out so fast and replacement of the lining was also hard job.
Our innovative M/C has solved all these GAP PROBLEMS.

Principle Drawing of CD-Series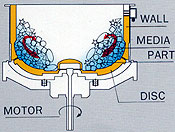 Features
¡á General features
| | |
| --- | --- |
| 1. | Strong finishing result 6 times faster than vibratory. |
| 2. | Adjustment of RPM provides most suitable finishing condition. |
| 3. | Noiseless running. |
¡á Special features of our MACHINE

1.


Water is supplied by pump through the GAP to prevent the debris from sticking into. The water is discharged through the over-flow hole located on top of the wall to the debris and metal fines are sottled and the water can be recirculated to the chamber.

We have tried in the actual operation and found almost no GAP problems and wear rate or GAP was remarkably reduced.


2.

Angle of GAP was specially designed so the debris would slide instead of sticking into.

3.

In spite of above improvement when GAP
has worn out GAP can be adjusted and can be used for a long time without replacement.

4.

Fully automated with its chamber on the lower place, convenient to check during operation.

5.

Hydraulic cydinder is used to tilt the chamber and loading basket.
No Air required
No damage or impingement on the part.

6.

Loading and unloading is done at the same position Convenient for operator.